Caribbean Island Deluxe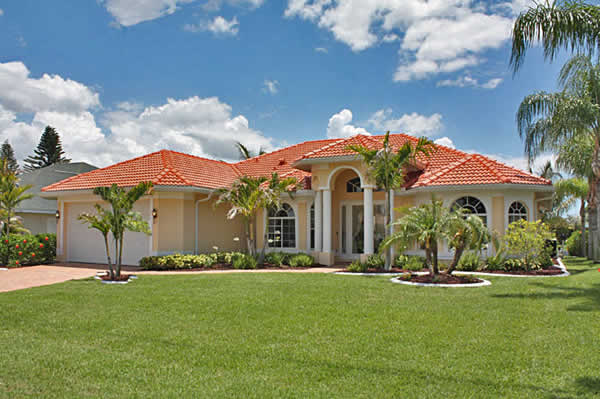 Caribbean Island Grand Deluxe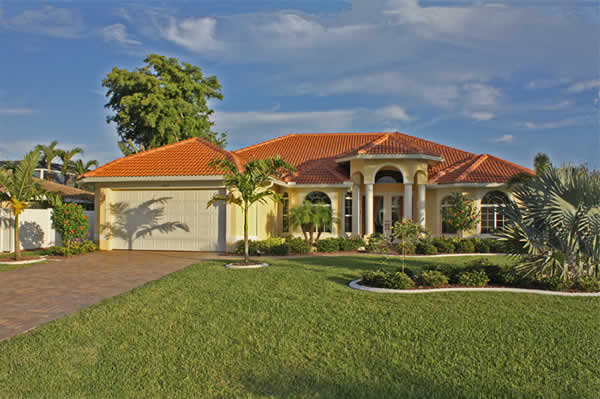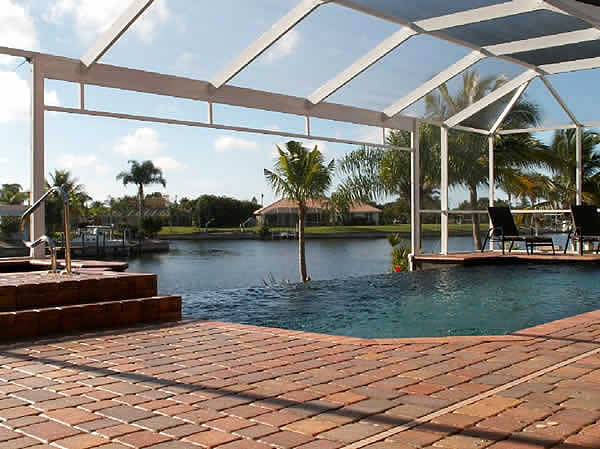 to top
Plenty of space & view above Rubicon Canal - Caribbean Island Grand Deluxe
The huge private screened in pool-area
features for your convenience
Luxury non-slip pavers
A spacious sun deck area
A roomy paver lanai equipped with furniture, 2 outdoor ceiling fans and loudspeakers
A stunning electric heat oversized "vanishing / disappearing edge" swimming pool

Whirlpool - with room for 8 adults, electrically heated
Control unit for the swimming pool and whirlpool in the great room
Exclusive patio furniture, consisting of

2 Separate sets, featuring

1 Large outdoor dining table 85'' x 42'' with 6 dining chairs
1 Round table - approx 31'' - with 2 dining chairs and an ottoman

8 Lounge chairs and 3 little end tables
gas grill

The stunning disappearing edge pool is a highlight of our pool area and created with high architectural demands. The disappearing / vanishing edge pool gives the optical illusion of the pool being filled by the canal, i.e. the swimming pool and the waterway seem to have just one common surface. To avoid obstructed view due to any props of the screen-cage a special screen-window was integrated with the screen. The whirlpool is connected with a little waterfall that spills over into the pool. As the pool is oversized, also serious swimmers will enjoy this swimming pool for exercising.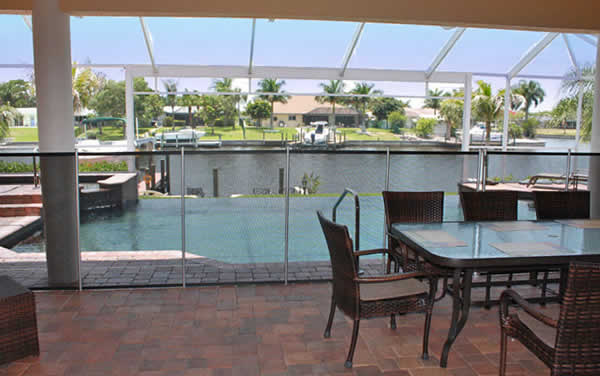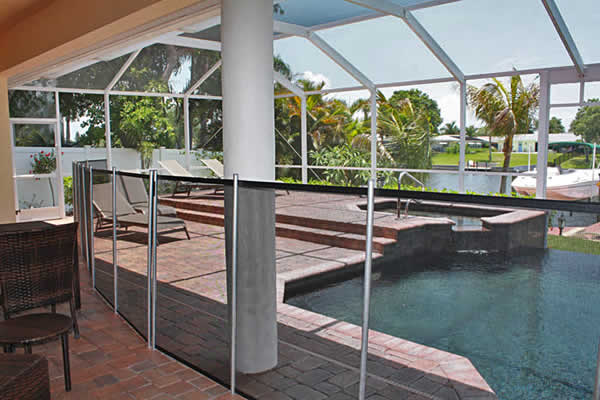 "Baby Barrier Fence" between pool and lanai
Baby barrier fence: To avoid little ones getting into the pool without an adult, i.e. to prevent drowning accidents, there is a baby barrier fence that can be easily installed with just a special stacking system at the end of the lanai. The fence has see-through PVC coated mesh - as you can see on the picture above.
to top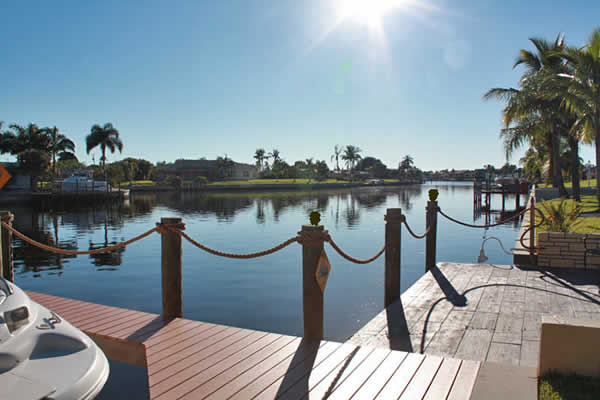 The residence is on a 200' (ca. 61m) wide Canal and offers the oversize measures of about 165 x 80 feet = 13,200 sqft with a even front on the water. You can moor also large boats on the private boat dock.
A private boat dock / sun deck also belongs to our property. This offers the opportunity to moor your own or your rented boat at our dock. You can cruise from your own house the Gulf of Mexico or the waterways of Cape Coral, also known as the Venetian of America. Cape Coral offers a huge amount of boat rentals and we will be more than glad to give you support if you would like to rent one. The rental can already be organized from home. Please note: To rent a boat you must be at least 21 years of age and have a valid drivers license and credit card. No special license is required.


The boat dock / sun deck is sizable and fits several sun loungers easily. This offers you another separate place to enjoy undisturbed sunbathing from sunrise until sunset. Enjoy the breathtaking view overlooking the canal. Watch out for fish. If you like you can fish and enjoy the view of the canal. There are a lot of fish and - if you are lucky - even dolphins and manatees can be watched - in the Santa Fe Canal and also in the Rubicon Canal.
Please note that topless sunbathing is not allowed in Florida, even if you are on a privately owned property.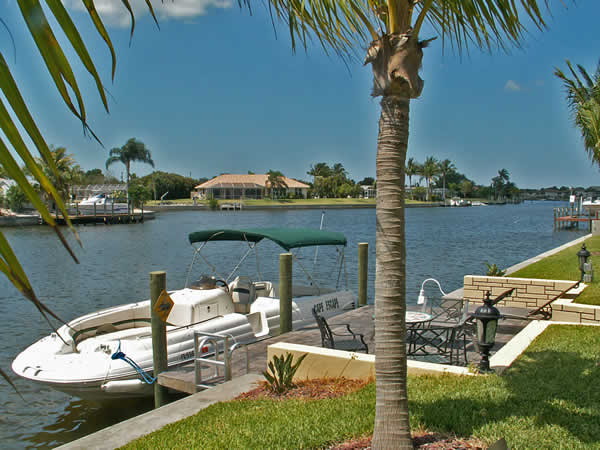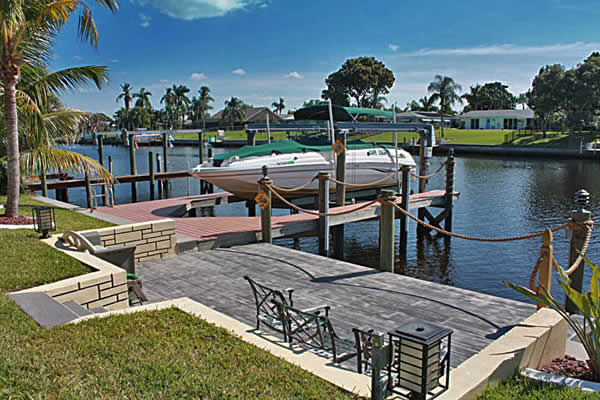 The rental boat is waiting for a ride.
to top
The well-cared garden shows several kinds of palm trees like coconut palms, queen palms, pygmy date palms, areca palms and further tropical plants like allamanda, hibiscus, and frangipani. Our jasmin produces a nice fragrance. The plants also provide the typical Caribbean atmosphere.
Our friendly and helpful property manager
Offers local service
Can be reached anytime
Speaks English and German fluently


Access to the house - Using of the Key Lock Box
The Code is changed regularly. In the afternoon on the day you arrive the key will be deposited in the key lock.

Move the numbers of the combination lock and set them as you know it from using a lock from a Samsonite suitcase.
Push the black bar (which is on the left from the figueres) downwards.
The entire grey colored front will open machanically.
After you opened the door, please close the key lock box, change the numbers that show the current code and draw the cover above the combination lock.
The great room
has a sunny Mediterranean Caribbean atmosphere due to the location to the south, open built style, the colors and the interior. High standard furnishing and decoration express the Caribbean style. Make yourself comfortable in an high grade Italian leather couch from Natuzzi. The stunning ceiling fan is equipped with palm blades. It gently mixes the air already cooled down by the A/C. The high cathedral ceiling gives a special touch and ambience.
In the built-in entertainment center, you find a cable-TV, high-end Yamaha/Polk Audio System with CD and DVD. You can play American as well as German DVDs. The loudspeakers for the great room, for the lanai and for the whirlpool can be controlled individually. Cable access is provided on each telephone jag. W-LAN high-speed Internet access via cable is available free of charge. Board games, parlor games and playing cards are available for your recreational pleasures.
Huge sliding doors to the lanai and pool area grant you an unobstructed view above the terrace and the pool to the Santa Fe Canal featuring tropical landscaping.
Please consider that you are in an allergy-friendly, non-smoking house. Of course smoking is permitted on the lanai. Out of consideration for people suffering from allergies, we ask for your understanding in not permitting any kind of pets in this house. To achieve the highest quality cleaning, hygienic high quality ceramic tile floors are throughout the house.
The fully equipped open luxury kitchen - whether in the Caribbean Island Deluxe or in Caribbean Island Grand Deluxe - invites cooks for creating gourmet meals. The large high-end equipment makes you daring to cook fabulous meals during your vacation! Cooking like the pros. This kitchen leaves no wishes open.
This kitchen features

Stunning granite counter tops
Rich cabinetry
Concealed halogen lighting
Stainless steel electrical appliances
Stainless steel twin sink units
Self-clean radiance range and oven
Dishwasher
Refrigerator with ice and water filtration system, dispenser with water, crushed and cubed ice and freezer - cold drinks are waiting for you upon arrival
Coffee maker
Toaster
Waffle Maker
Blender
Microwave with integrated exhaust fan
Cooking pots of Germany's market leader: Fissler's original pro collection®, which was designed by professionals for professionals.
High-quality cutlery for 12, BSF, made in Germany
Fine dining dishes for 12, Villeroy and Boch, made in Germany and / or Luxembourg
High-quality cooking and baking utensils, storage items
All kinds of drinking glasses
Unbreakable polycarbonate drinking "glasses" to be used in the pool area
Open serving bar with 4 bar stools

The dining room was also built open style. The high-sized bay window frames has views overlooking the terrace and pool to the canal. The wooden dining room table is extendable and comfortably seats 6 - 8 people.
The utility room is equipped with
Washer (front loader)
Dryer
Cabinetry storing cleaning utensils
Vacuum cleaner
Iron
Ironing board
In the double garage is an Igloo cooler on wheels that you may use for your day trips. The cooler can easily be cleaned up in the additional sink in the garage. The electrical garage door can be operated by remote control.
3 King Size Bedroom Suites and 1 Guest Room / Study as a 4th Bedroom:
To achieve the highest quality cleaning, hygienic high quality Italian ceramic tile floors are throughout the Caribbean Island - including in all our bedrooms - you have an asthma- and allergy-friendly vacation house.
Three luxury bedroom suites are furnished with exclusive Caribbean stylish interiors, featuring pool and canal view and direct access to the terrace and pool area by sliding doors. Both are individually equipped of equal value and both feature king-size beds, full dressers and mirrors. "Suite St. Thomas" is separate from the other two bedrooms for added privacy and has its own en-suite bath.
"Suite St. Lucia" has an en-suite bathroom which is also accessible from the pool-area.
Suite 3 is named "The Coca-Cola Suite " which offers also a king-size bed and huge high-sized bay windows almost down to the floor. The extraordinary idea to mix the themes - Coca-Cola and Caribbean - was well converted in decorating and gives the room a special ambience.

Each bedroom has its own bathroom. There is air-conditioning in each room, ceiling fan, cable TV and telephone. All bedrooms are equipped with wall closets. You can take the extra supply of pillows and high standard sheet sets for granted.

"Bedroom 4": The elegant guest / study room can be used as a adequate 4th bedroom.
There is a day bed that invites you to read a book in privacy. With a flick of the wrist the day bed can be converted into
2 single beds or
1 king-size bed.
A drawer and telephone as well as W-LAN high-speed Internet access (Road Runner High Speed Online) is also provided. This room is also equipped with cable TV.
Should you come from a country which has usually 220 volts and would like to bring your personal electrical appliances they have to be switched to 110 volts. Adapters for your convenience are available in the Caribbean Island.
3 En-Suite Bathrooms
The first en-suite bathroom features a walk-in shower providing a large double shower in a bay windows room. Additionally there is a Jacuzzi and separate toilet. The bathroom features two single vanity units. En-suite bath 2 offers a bathtub/shower combination and a toilet. Ensuite bath 3 is provided with an additional entrance from the pool area. It is equipped with a shower and a toilet.

The luxury bathrooms are all equipped with imported Italian tiles. Hair-dryers in each bathroom is our standard as well as a large selection of hand towels, bath towels and of course beach towels - provided for your convenience.
The elegant guest / study room also features high-sized bay windows and can be used as a adequate 4th bedroom. There is a day bed that invites you to read a book in privacy. With a flick of the wrist the day bed can be converted into
2 single beds or
1 king-size bed.
A drawer and telephone as well as W-LAN high-speed Internet access (Road Runner High Speed Online) is also provided. This room is also equipped with cable TV.